---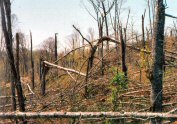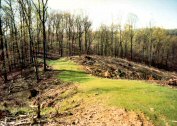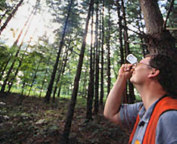 Forest management practices at the Arboretum include tornado damage rehabilitation, timber harvest road stabilization and revegetation, and tree growth study.
---
Forest management is an integral part of the Forest Resources Research and Education Center program. An understanding of forest management requires viewing a forest in terms of "rotation." The time span between establishment or planting of trees to the mature stage where trees have reached their full potential growth can be 30 to 150 years. But this is not the end of the time line for a forest. By harvesting the mature trees and establishing new ones, the forest is regenerated and another "rotation" begins.
Each forest presents its own unique circumstances based on soil, water, climate, and environmental conditions. And since all trees do not mature at the same rate, harvesting and regeneration can become complex. Of course, nature is always a factor in forest management. Storm, fire, and disease damage is a reality in a forest. Many trees at the Oak Ridge Forest Unit recently sustained extensive storm damage.
As part of the Forest Resources Research Center's ongoing forest management program, the Oak Ridge Forest and Cumberland Forest Units conduct timber harvesting sales. For details about the next scheduled sale, please contact the Center at 865-483-3571 or utforest@utk.edu.
UT Agricultural Extension Service publication #1523, "Forest Practice Guidelines for Tennessee" provides a more detailed treatment of the subject of forest management. It may be viewed at the Forest Resources Research and Education Center headquarters/visitors center in Oak Ridge.