---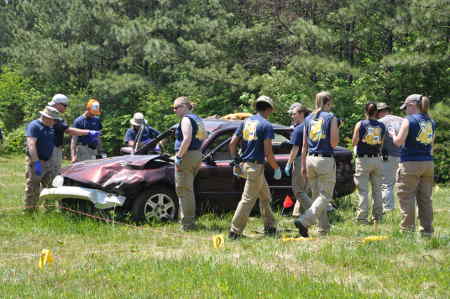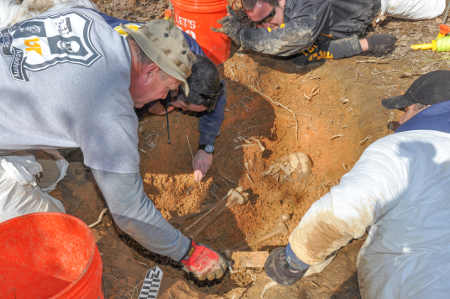 ---
The Forest Resources AgResearch and Education Center (FRREC) has partnered with U.T.'s Law Enforcement Innovation Center (LEIC) to provide outdoor training facilities for LEIC's highly acclaimed National Forensic Academy (NFA). A component of U.T.'s Institute For Public Service, the LEIC is located in Oak Ridge and offers its rigorous NFA course as a 10-week residence program to crime scene investigators from across the nation and the world. NFA students are presented a comprehensive curriculum that prepares them to return to their agencies and perform the critical mission of processing crime scenes in support of criminal investigations. In addition to the NFA, the LEIC also offers its three-week forensics based Collegiate Program to select college students who aspire to work in the field of criminal justice. Both programs offer college credits through the U.T. system.
A critical component of the NFA's success is its intensive "hands-on" approach to learning. Under the tutelage of subject matter experts across the spectrum of criminal forensics, NFA's student-practitioners go beyond theory, scientific methods, techniques, and protocols as presented in the classroom. They spend a significant amount of time in practical exercises "in the field"…literally. Since the inception of the NFA, FRREC has provided LEIC with several acres at the Arboretum to conduct realistic field exercises that include activities as varied as bone scatter searches to shooting incident reconstruction and post-blast investigation. More recently, an Outdoor Forensic Training Center was established by LEIC at FRREC's Cumberland Forest Unit in Morgan County to offer NFA students a realistic setting to practice the skills necessary for the proper identification and recovery of human remains within the context of a criminal investigation.
LEIC Executive Director Don Green highlights the partnership between the FRREC and the LEIC as a primary example of excellent cooperation between components within the U.T. system. Green noted, "Without the tremendous working relationship we have enjoyed with the FRREC, we would have had a much more difficult time providing our NFA students the exceptional variety of practical exercises they require to be ready to effectively process a real crime scene their very first day back at their agency."
For complete information about the National Forensic Academy, please visit the web site at http://leic.tennessee.edu/nfa.